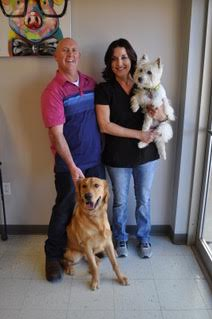 Dr. Brett Jones & Renee Jones
Dr. Brett Jones is the owner and Sole Veterinarian. Dr. Jones graduated from Kansas State University School of Veterinary Medicine in 1996. Dr. Jones is a mixed animal practitioner. He has practiced in Hutchinson, KS, Alma, NE, and Ashland, KS. Dr. Jones has practiced at Liberal Animal Hospital since 2001. He enjoys mixed animal practice due to the variety of both Large and Small Animals. He embraces new technology with an emphasis on Small & Large Animal Dentistry, Small Animal Medicine and Surgery. Renee Jones is the Office Manager. Renee is Married to Dr. Jones and together they have 2 daughters. Riley lives in Liberal and Rachel lives in Manhattan. Dr.Jones and Renee have West Highland White Terrier named Ronni and a Golden Retriever named Oak. Their daughters have a Golden Retriever named Audi, a French Bulldog named Margo, and a Golden Doodle named Potter.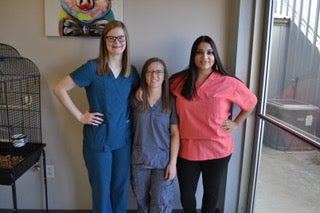 Left to Right: Claire, Jamie, Samantha
Claire Alling is a Veterinary Assistant. Claire is from Liberal and graduated from SCCC, she has been on staff for 4 years. Claire is furthering her education to become a Nurse. Claire has a cat named Snyder.
Jamie Osborn is a Veterinary Assistant. Jamie has been on staff for 8 years. Jamie is married to Dewaine they live in Hooker, Oklahoma with a Daughter Natalee and a Son Kaden. Jamie has 3 dogs, 2 Cats, 1 Chicken, and 1 Goat.
Samantha Chavez is a Veterinary Assistant and has been on staff for 2 years. Sam is married to Aldo and they have one daughter Kenia. Sam is from Plains, Kansas. Sam has three dogs, Lyza, Fluke, and Minnie. Also two cats Moostache and Moon.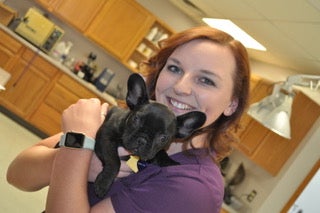 We have two Kennel Assistants Sarah Mein and Natalee Tofoya